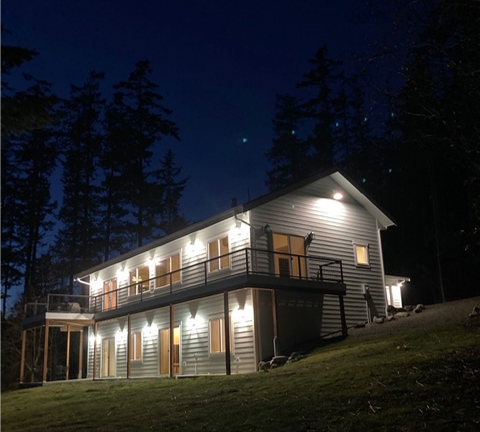 Oak Harbor Hillside Res
Washington
Project Type Residential | Single Family > 3000 sf
Year Completed 2020
Project Size 2572 sq ft
SIPS Used 6" GPS Walls / 10" GPS Roof
Sustainable Features Premier SIPS, Hard-plank siding w/Hardi trim, 100% zero-VOC paints/finishes, and landscaping all native pants, trees and shrubs.
Environmental Certifications Net Zero/Zero Energy Ready
Architect Zero Energy Plans
Contractor Zero Energy Plans
Project Overview
Oak Harbor Hillside Res
End Use: Private Residental
Why SIPs?: We absolutely "rock it" when it comes to energy use per square foot, and SIPS are a key part of our strategy.
Benefit of SIPs: SIPs made it possible for a faster build time, tighter building envelope, better indoor air quality, better insulation values, and vapor-proof (condensation-free) wall and roof assemblies.
Innovative Design: We tucked this daylight-basement home into the side of a hill, using ICFs for the below-grade foundation walls, and SIPS for all else.
Certifications:
US DOE Zero-Energy Ready
EPA Indoor Plus
Energy Star
HERS Rating: 49 without PV
Blower Door Test: .47 ACH 50
Energy Use Intensity: With a 16˚F design degree day, this 2572 s/f home requires just 20,254 btuh, for an energy-use intensity of 7.874 btuh per square foot.
HVAC: HVAC system is a Daikin Ductless heat pump, COP 3.31
Energy-Saving Materials / Energy-Efficient Products or Design Features:
The Ang home used PlyGem HP3-Max windows, with an average U-value of .22.
The ICF foundation features R-22.5 of insulation in the walls and R-20 rigid foam insulation under the slab.
The main floor features a 3" concrete thermal mass slab over wood framing for heat retention from day to night. This feature alone will save up to 22% of the total heating load on an annual basis.
100% LED lighting
Energy-Star Appliances
The building was oriented to optimize both passive and active solar systems
The roof was designed to hold up to 18kW of solar panels, though just 6.75kW would get it to zero energy, leaving enough additional capacity to power at least three electric cars for more than 12,000 miles per year each.
Solar Panels: Solar panels have been engineered into the project, and infrastructure is in place, but installation has not happened yet.
Client Comment: "SIPS gets it done, every time.'
Find Your Local Rep
As the oldest manufacturer in the SIPs industry, Premier's SIP system is the proven prefabricated building envelope framing system for your next commercial or residential structure. Faster, stronger, and greener than outdated lumber framing methods, SIPs are the future of framing. Join the other thousands of structures built with SIPs, and contact the expert in your local region to get started.