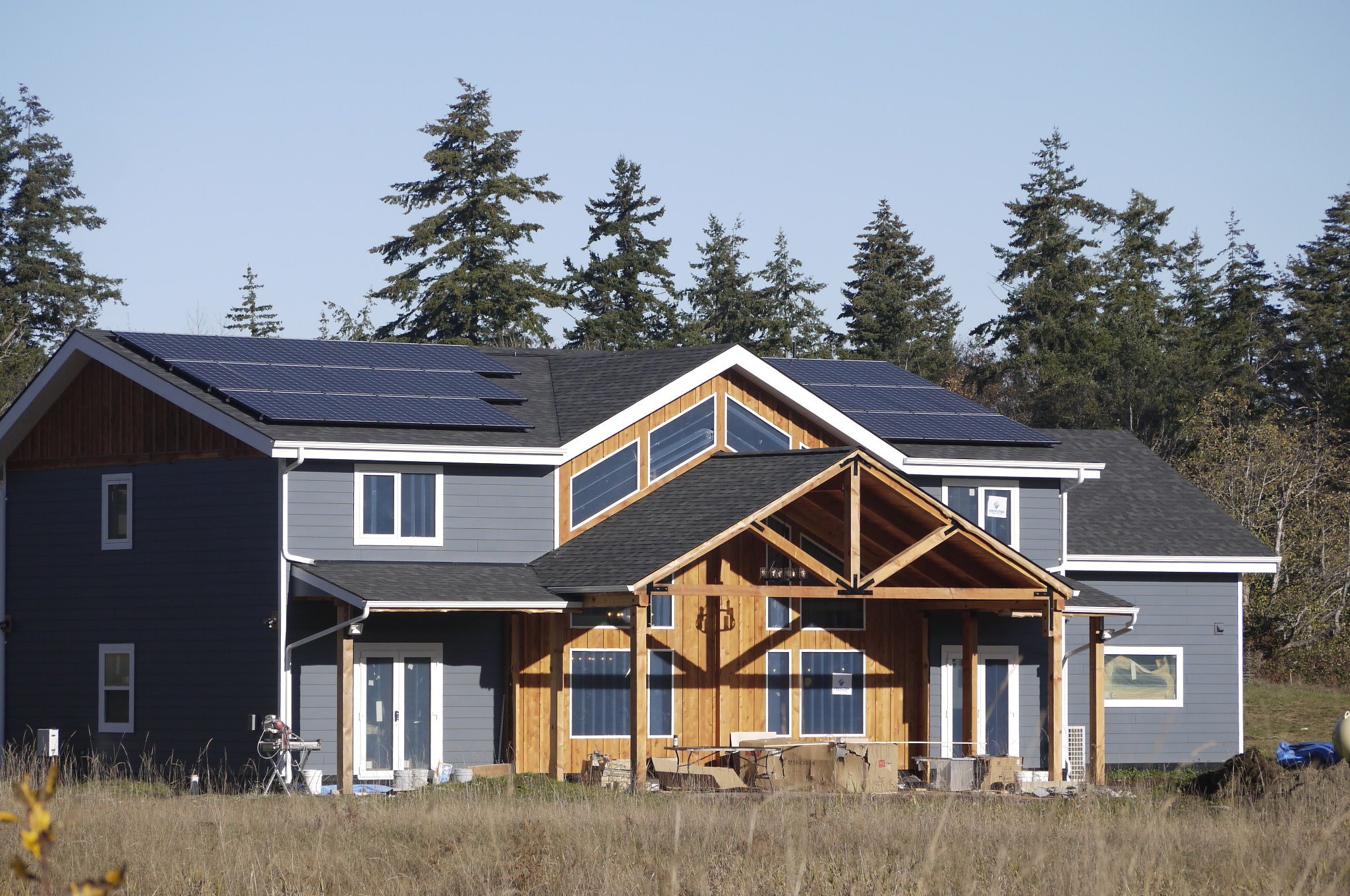 TC Legend Bellingham Platinum
Washington
Project Type Residential | Single Family > 3000 sf
Year Completed 2018
Project Size 2707 sq ft
SIPS Used 6" GPS Walls & 10" GPS Roof
Sustainable Features Premier SIPS, VOC Free Interior Paint, Locally Harvested Timber
Environmental Certifications LEED/USGBC
Architect TC Legend Homes
Contractor TC Legend Homes
Project Overview
TC Legend Bellingham Platinum
End Use: Residential Single Family Positive Energy Home
Why SIPs?: TC Legend Homes was selected as the builder for this project. TCL coordinated all aspects of the project from design through construction and has developed a "positive energy" system that relies on the energy-efficient components that Premier SIPS offers. This project was modeled after this high-performance system. And achieved extremely high energy data given its larger footprint. A great achievement!
Further, the design of this home featured a soaring vaulted cathedral ceiling in the great room that is easily achieved with the span/load values of PRemier SIPS without the need for additional support/truss systems.
Benefits of SIPs: Premier SIPS saved time, labor, construction costs, and energy. Install time is days, not weeks which equates to a reduction in framing and other trade labor. Premier SIPS were comparable overall for the options on a net-zero/positive energy project. The main floor also includes a large cathedral ceiling which the spans/loads of SIPs worked perfectly and eliminated the need for additional truss/load systems.
Innovative Design Elements: The entire project was engineered to be positive energy so that it would be able to produce more energy than it needs to operate. This required planning from the start to ensure all systems were complimented and optimized. While there was considerable upfront planning to achieve this operating status, the construction period flew with components being pre-planned for execution. TC Legend Homes is well considered the foremost expert on positive-energy homes and has constructed dozens in Washington State.
Certifications:
Energy Star Certified New Home
Washington Built Green - Highest 5-Star Status
EPA Indoor AirPLUS Qualified Home
DOE Zero Energy Ready
HERS: -11
Blower Door Test: Htg: 0.44 clg: 0.44 ACH 50.
Energy Use: Estimated energy use annually -3102 KwH, Space heating 11.7 kbtu/hr, Space cooling 9.2 kbtu/hr
HVAC System:
Electric air source heat pump, Electric Htg.: 13.4 HSPF. Clg: 23.0 SEER
Heating: Propane fuel-fired unit heater 90.0 AFUE
Ventilation: Balanced HRV, 120 cfm, 34 watts
Thermostat: Programmable heating and cooling
Energy-Saving Materials / Energy-Efficient Products or Design Features:
Triple-Pane Windows, U-Value: 0.170, SHGC: 0.330
Solar Array
Under Slab Insulation, R-20 under & R-20 Edge Slab
Passive Solar Orientation
Heat pump hot water with /fan coil units
Radiant flooring
Solar Panels: Photovoltaics estimated at an annual energy consumption of -35.6 MMBtu/yr
Additional Comments:
GPS insulation core for increased efficiency.
Annual energy cost for all operations is $87.00
Find Your Local Rep
As the oldest manufacturer in the SIPs industry, Premier's SIP system is the proven prefabricated building envelope framing system for your next commercial or residential structure. Faster, stronger, and greener than outdated lumber framing methods, SIPs are the future of framing. Join the other thousands of structures built with SIPs, and contact the expert in your local region to get started.