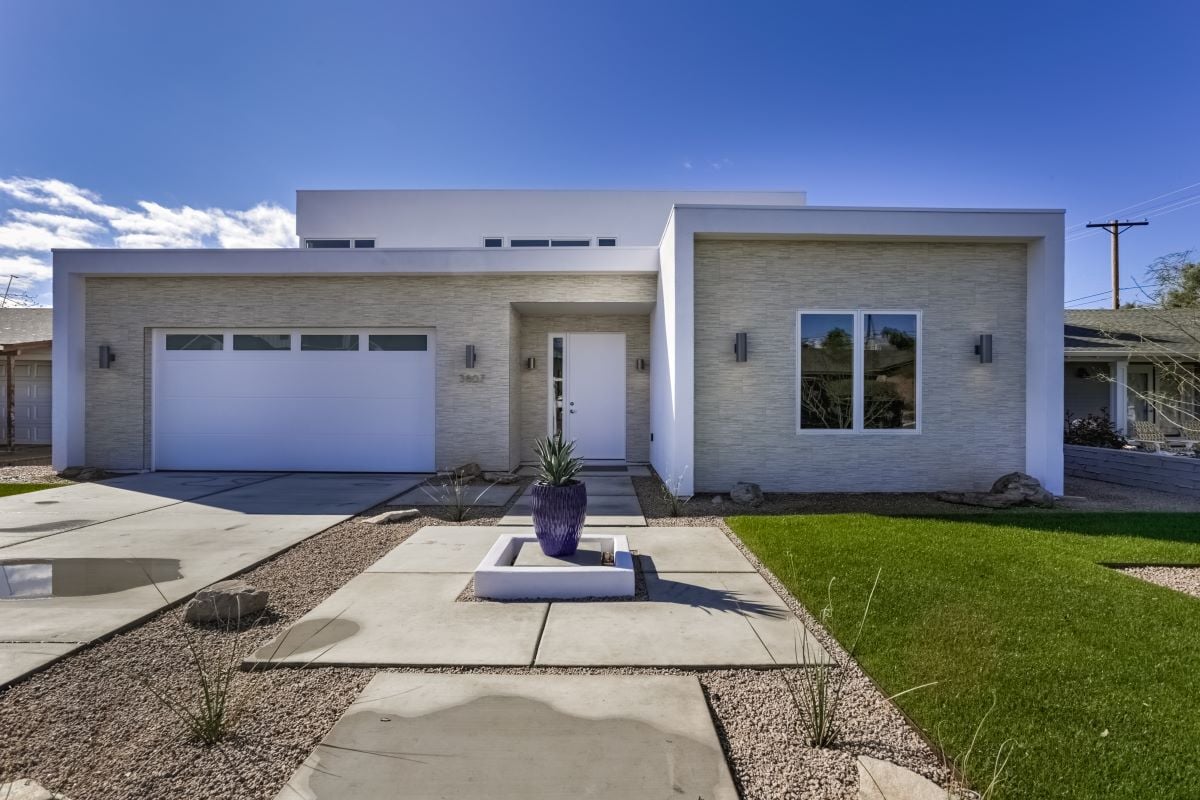 Award winner
Casa Monterosa, AZ
Arizona
Project Type Residential | Single Family > 3000 sf
Year Completed 2000
Project Size 3465 sq ft
SIPS Used Roof
Sustainable Features Tran Xr14 split A/C heat pump system, LED lighting, Tankless hot water heaters, Energy Star appliances, and drought resistant landscaping
Environmental Certifications Net Zero/Zero Energy Ready
Awards Building Excellence National Award Winner, Residential Over 3,000 sf
Architect Monterosa Partners
Contractor Gus Brother's Construction
Project Overview
Sometimes, the reasons for using Premier SIPs are as simple as this. The architect wanted a complete energy efficient roof system to easily accommodate the home's flat modern roof design. Judges from SIPA's National Building Excellence Awards took notice and awarded this home the prize of best 3,000 sf and over residence for 2021.
For this 2-story residence, Premier's factory manufactured structural insulated roof panels offered this Southwestern modern beauty additional construction benefits such as:
SIPs saved construction time a full structural roof system factory manufactured per floor plans. The finished roof sections are pre insulated and delivered to the job site ready to assemble.
Factory production also delivered cuts and window/door openings with engineered accuracy, as all dimensions and cuts are digitally computerized down to the smallest increment. Worries about uneven measurements, or bowed lumber for site framed roofs, walls and floors isn't a concern with Premier SIPS.
The ease of installation (installed in two days) offered a convenience for the crew, especially at a time when skilled labor continues to be a challenge for most contractors.
Rigid insulation is the core of every SIP section. Factory laminated to structural grade OSB facings the panels include solid insulation, eliminating the extra requirement to install an insulation layer on the roof.
The fast install of large roof panel sections created an immediate conditioned space for subcontractors in the hot Arizona climate throughout the course of construction.
As a high performance building envelope system, SIPs offer extreme energy efficiency. In fact energy savings regularly surpass traditional wood framed construction by 40-60%. In a climate like Phoenix, where heat can be extreme and indoor air conditioning can consume excessive amounts of energy, choosing a building envelope that is designed to keep the cold air in and hot air out (and vice versa in cold climates) helps reduce cooling costs, and the associated HVAC system used to cool and circulate air throughout the home.
For Casa Monterosa, a 2-story home, the HVAC design included both a 3.5 and 2.5-ton Tran Xr14 split A/C heat pump system. To keep clean air circulating efficiently throughout the home, air handlers are located on filter bases in the mechanical closets. To further manage air efficiency, all supply/return registered included insulated duct supply and returns (with R8 value flex ductwork).
Keeping with a high-performance building design, other energy efficient building envelope materials chosen included a wet cellulose wall insulation (R-19) and Marvin windows & exterior doors (U-.027).
Moving indoors, sustainable selections included: 1005 LED interior lighting, two tankless water heaters (Navian model NOE 240-S) with on demand water eliminating the need to waste energy heating and storing hot water in a large tank, natural gas Energy Star Appliances and an Ecosmart Bio Ethanol burning fireplace.
To top off Casa Monterosa's environmentally responsible project choices, the landscaping utilized plants, flowers, and trees native to the area requiring minimal water resources.
Find Your Local Rep
As the oldest manufacturer in the SIPs industry, Premier's SIP system is the proven prefabricated building envelope framing system for your next commercial or residential structure. Faster, stronger, and greener than outdated lumber framing methods, SIPs are the future of framing. Join the other thousands of structures built with SIPs, and contact the expert in your local region to get started.