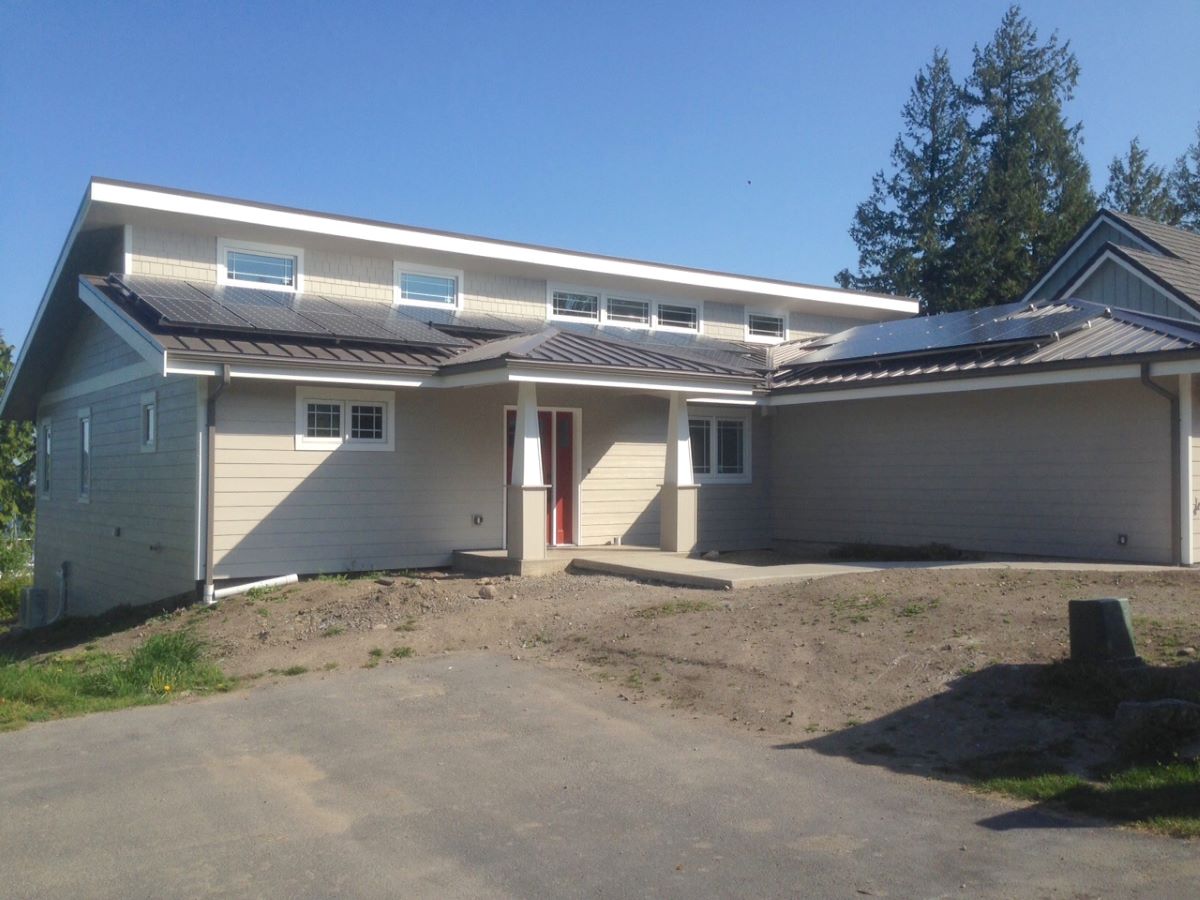 Port Hadlock Residence, WA
Washington
Project Type Residential | Single Family > 3000 sf
Year Completed 2015
Project Size 1784 sq ft
SIPS Used 6" Walls & 10" Roof
Sustainable Features Net-Zero Energy -Electric car-charging circuit in garage. -No-VOC paints. - Low-VOC caulks and adhesives. - House is engineered to withstand an 8.0 magnitude earthquake. - Outside: rain gardens help to infiltrate storm water back into the aquifer while reducing watering requirements and plants were chosen that need no extra watering after the first season..
Environmental Certifications Net Zero/Zero Energy Ready
Architect Zero-Energy Plans LLC
Contractor Clifton View Homes Inc.
Project Overview
Port Hadlock Custom Residence
Why SIPS?:
The homebuilders had a beautiful piece of property overlooking the marina on Puget Sound, west of Seattle. An architect had already drawn up plans with most of the window area facing north for the view. Clifton was hired as the builder. The home builders did not come asking for a zero-energy home, but the husband wanted the SIP construction that Clifton uses. "Once I told them that we could do zero energy construction in their price range, they knew that is what they wanted," said Clifton.
Benefits of SIPS:
The SIP construction provided an airtight structure for the home, which tested at 1.7ACH50, as well as helped the homeowner with projected energy cost savings (annual savings of $1,553).
Innovative Design Elements:
6.5" SIP walls provide an R-25 insulation value with no thermal bridging.
The walls are wrapped in corrugated house wrap to provide a slight air gap and drainage plane behind the fiber cement siding.
The roof is 10.25" SIPS (R-40); all cathedral ceilings, except a small mechanical attic above the master closet and master bath, and another small attic over the guest bath, all within the building envelope.
Standing-seam steel roofing.
The garage is framed with raised-heel trusses and R-38 ceiling insulation
Builder installed a dense slip sheet under the flooring so it became part of the thermal mass of the concrete floors, which also has 4 inches (R-20) of rigid foam underneath the floor slab.
11.75" insulated concrete form (ICF), concrete-filled foam block walls formed the foundation walls down to the footer which is 12" below the slab base, providing R-23 of insulation and a thermal break around the slab, which held the radiant floor heating coils.
Certifications:
Certified to DOE's Zero Energy Ready Home Program
Met all requirements of ENERGY STAR Certified Homes Version 3.0
U.S. Environmental Protection Agency's Indoor airPLUS
Hot water distribution requirements of the EPA's WaterSense program
Insulation requirements of the 2012 International Energy Conservation Code.
Hers Index: -9
Blower Door Test: 1.7 ACH50
HVAC:
HVAC: Air-to-water heat pump (COP 4.1), radiant floor heat. No active cooling is required, except for the night ventilation cooling.
Ventilation cooling with 240 cfm fresh air intake fan with MERV 19 HEPA filter that is directed to bring air into the home via a fresh air duct.
This airflow is balanced with a matching 240-cfm range hood fan. A damper on the fresh air intake allows air in but not out.
A 24-hour programmable timer allows the fan combination to operate in the early morning hours during periods of hot weather to cool off the home at a very low cost of operation. The system will replace all the air in the home in less than 1.5 hours, at a cost of about 2 cents a day. When the system is not actively running, it provides a filtered passive pathway for fresh air to enter the home when a bath fan runs.
The guest bath fan is set to run continuously at 40 cfm to meet the ASHRAE 62.2 requirement.
The incoming air is distributed through ducts (all within the conditioned space) to each bedroom and the main living area.
Energy-Saving Materials/Energy-Efficient Products or Features:
Triple-pane windows, argon-fill, triple low-e coating. U-factors range from 0.14 to 0.17, and the solar heat gain coefficients also vary depending on which direction the window is facing, with values ranging from 0.22 to 0.51.
The triple-low-e, low SHGC windows on the north side reflect most of the winter sun back into the north-facing rooms. The total glazing area was kept to just 15%, mostly by reducing east - and west-facing glass to near zero.
Stained concrete floors have a thermal resistance of R-1 per foot so it transfers heat fairly quickly, a principal Clifton used for passive solar heating within the home. The thermal mass also provides a heat sink for cooling during the day.
Lighting: Near 100% LED, some CFL.
Appliances: ENERGY STAR clothes washer, dishwasher, refrigerator; 2 ceiling fans.
Water Conservation: All EPA WaterSense fixtures; the yard is xeriscaped for zero irrigation.
Find Your Local Rep
As the oldest manufacturer in the SIPs industry, Premier's SIP system is the proven prefabricated building envelope framing system for your next commercial or residential structure. Faster, stronger, and greener than outdated lumber framing methods, SIPs are the future of framing. Join the other thousands of structures built with SIPs, and contact the expert in your local region to get started.